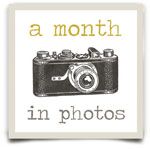 Wow ... January was a full month ... a great start to 2012!
Brought in the new year with my peeps at Trivania's!
Dan and I started our 10 week boot camp program - and I'm down 10 pounds so far!
Olivia starting to learn her multiplication tables.
A visit to the Newseum - maybe we should visit one new museum a month!
Judy and Pete came to visit.
My nephew, Matthew, and his wife, Heaven welcomed little Ruby into the world.
Dan's step-brother, Matt, passed away ... very sad!!
Jo Paterno (JoPa) legendary PSU , where Dan and I went to school, football coach passed away
Olivia's first All Start gymnastics meet -1st place team, 1st in Bar and 3rd overall!
Sweet sweet daughter bought me a pair of earrings that I love.
Dan and Olivia went skiing twice to Mt.Liberty and then as a family to Canaan Valley.
Motorcycle Convention
Peeps brunch downtown DC - filled my cup!
January Fun Facts and Trivia
Many cultures celebrate New Years Day on March 21st, the Spring Equinox.
Leap years exempted, January always begins on the same day as October.
In leap years, January always begins on the same day as April and July
Leap years exempted, January always begins on the same day as October.
January's birthstone is the Garnet.
The name January is derived from Janus who presided over the gate to the new year.
New Year ceremonies are designed to get rid of the past and to welcome the future.
According to Facebook users, January is "Change Your Profile Picture To a Muppet" month.
January's birth flower is the Carnation.
January 1st, 1776, the first American flag, the "Grand Union" was presented. Betsy Ross later added the stars in place of the Union Jack.
January's horoscope signs are Capricorn and Aquarius.
The first Superbowl was held at the L.A. Coliseum on January.
January is National Soup Month in the US.